Are You Risking a Retirement Shortfall?
Not enough money to enjoy retirement?
A tax free solution could help stretch your money further.
Watch the Retirement-Toolbox video.
Your money has to last 30 years or more if you retire in your 60s or 70s. Many people run out of money 7 to 10 years into retirement.
Facing a retirement shortfall, what will you do for the next 20 years if you run out of money?
Don't let it happen.  Discover and Implement the Tax-Free Solution.
A tax-free pension alternative also known as living benefit life insurance or the tax-free IUL will solve many of these issues.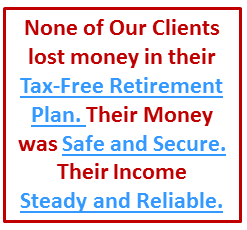 The Solution works. The tax-free solution has also been known to double, even triple after tax income compared to a 401(k) or 403(b) retirement plan. It has been called the Tax-Free Pension Alternative.
To see how powerful it is request a free illustration and retirement plan comparison.