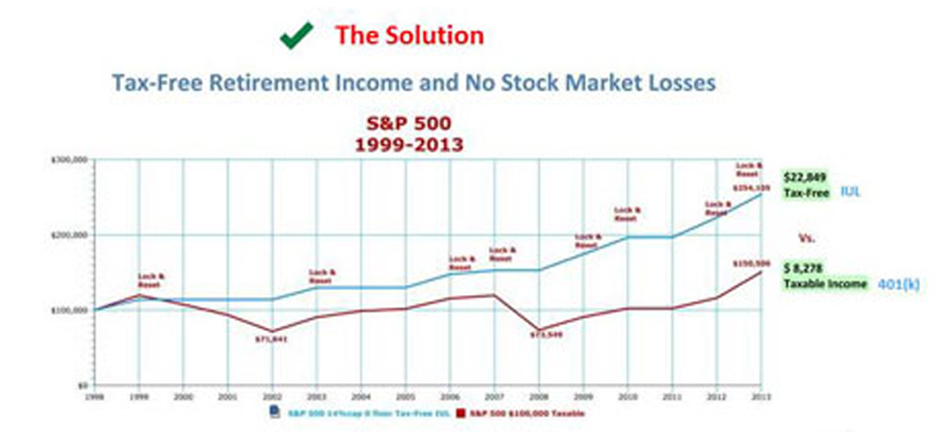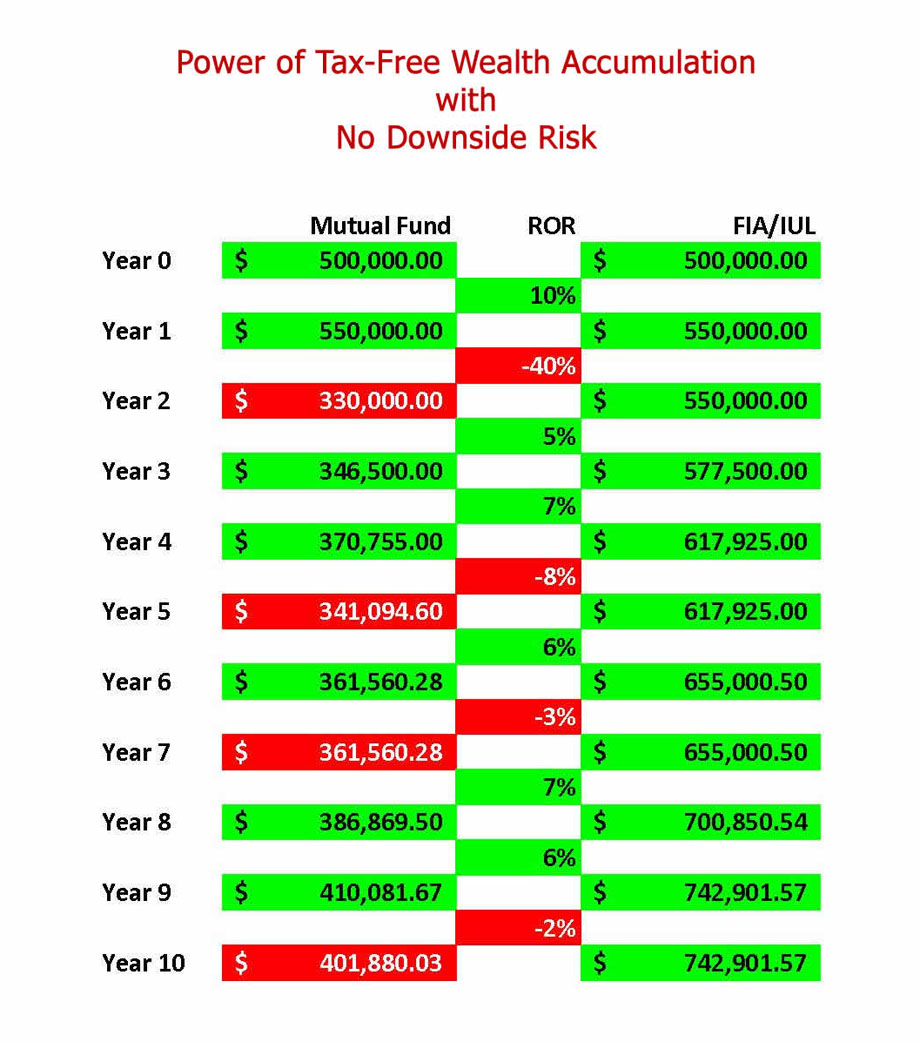 Solutions for You.
Safe Income Strategy #3
offers:
Tax-Free Retirement Income when properly structured.

Higher caps than Safe Income Strategy #2, and potentially higher returns.

Triple compounding – you earn interest on your principal, interest on your interest & interest on the tax dollars that are eliminated.

No Stock Market Losses. No downside risk due to market volatility. Your money is safe because you are never in the market.

You'll sleep better knowing the yo-yo ups and downs of the market are behind you.

You earn interest based on market index performance.

Your capital is never at risk. You never have to dig out of a market hole. You'll never be in a position of having to double your remaining funds just to get even.

Worst case scenario – Market is down 50% or more, your capital is secure – no loses and you get credited zero interest that year. Zero is your hero. While your friends in mutual funds suffered big losses, you lost no capital. Some policies pay a minimum return of 1% in down years.

Tax Free Death Benefit – Completes your tax-free retirement plan in event of early death.

Flexible premiums
What should you do?
Call me direct at

800-955-7898

to discuss your situation

We will tailor a solution to your situation.

You will find the solutions easy to understand and implement.

Stop contributing to traditional IRAs, 401(k)s and 403(b) retirement plans. Redirect your contributions into

Safe Income Strategy #3

, which will grow your money tax Free.

If you are getting a company match on your 401(k) retirement plan, only contribute enough to get the match, this is free money. Redirect the excess to

Safe Income Strategy #3.

For money already in a traditional IRA, 401(k) or 403(b) retirement plan, rolling the money into a properly structured IRA using

Safe Income Strategy #2

, could stretch the tax liability over multi-generations, possibly tripling the money available to your family.

If you are making extra payments on your mortgage,

Stop

…redirect the extra payments into Tax-Free Wealth Accumulation of

Safe Income Strategy #3

.

Low yielding underperforming assets can be

redirected into Safe Income Strategy #3.

. The tax advantages and safety are ideal for the risk adverse.

High risk assets can safely be redirected into

Safe Income Strategy #3

, eliminating volatility and market risk.

Switch annuities into IULs.

The caps are almost twice as high in IULs as in annuities and the participation rates are higher too. Tax-Free is better than tax deferred. And a tax-free death benefit is better than no death benefit.