Professional Engineers: Eliminate Stock Market Losses & Taxes on Your Retirement Income Once and For All
It's not rocket science.  Just an under the radar strategy allowed by the IRS and used by America's wealthiest families.
Most advisors have not heard about the strategy or they have not realized how powerful it has become.  Discover and implement the strategy.  It could triple your after-tax retirement income compared to an IRA or 401(k).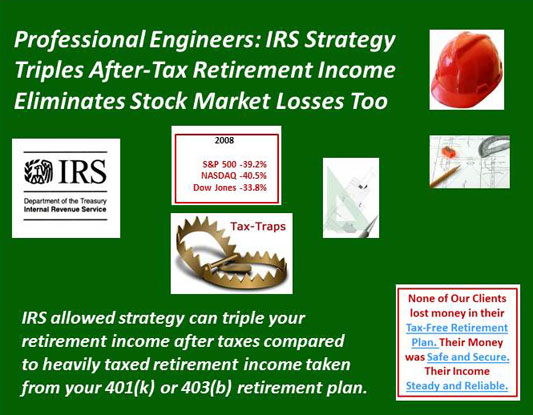 Watch the Retirement-Toolbox videos
New eBook tells how to get rid of stock market losses once and for all. You'll keep more of your money with a tax-free retirement plan, plus you could generate 3 times more after tax retirement income compared to your 401(k) plan. Use the secret America's wealthiest Families use to avoid taxes and not lose money in the stock market. The Strategy works. During the Financial Market melt down of 2008, none of our clients lost money in their tax-free retirement plan due to market volatility. Their Money was safe and secure and their income was steady and reliable.
This little known IRS approved strategy has largely flown under the radar for the last 20 years. Most Advisors never heard about it, or did not realize how powerful the strategy had become.
You have just been exposed to the strategy that can get of stock market losses and taxes on your retirement income once and for all. Learn more about this tax-free pension alternative, also known as living benefit life insurance.
New eBook explains how it works. Download it for free https://www.bruceecoxcpa.com/tax-free-iul-ebook.html