Living Benefit Life Insurance Rescue's Robert's Retirement
Robert 51, had no retirement savings and realized he had to do something about this.  He chose Living Benefit Life Insurance also known as a tax free IUL after reviewing the Retirement-Toolbox videos and eBook.
Robert's Plan:  Save $1,000 a month for the next 20 years in the tax-free IUL.  This tax-free pension alternative projects $57,000 a year in tax-free income for life at age 71, based on the historical 8.11% rate of return earned by the plan.  His actual returns will vary and the variance could be substantial.
Interest earned is tied to market indices, such as the S&P 500 index.  In exchange for no downside risk when the markets go down, there is a cap on annual upside, currently 13%.  Caps change annually.
Robert qualifies for life insurance.   The Tax-Free IUL is living benefit life insurance.  The primary focus is living benefits as opposed to traditional life insurance which is primarily focused on death benefits.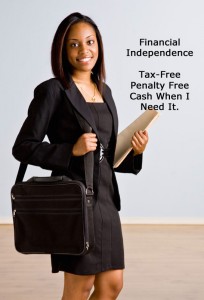 Living benefits life insurance can be tapped for emergencies.  Withdrawals are tax-free penalty free at any age for any reason.
Request an illustration and free retirement plan comparison